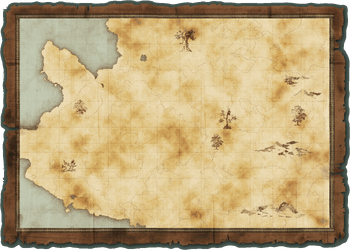 Silk Road (シルクロード Shiruku Rōdo, Silk Road) is the 20th sub-chapter of Stories of Legend. Released on December 19th, 2014 (update version 3.2.0 of the Japanese Version), this sub-chapter is available up to 4★ difficulty.
Difficulty
Silk Road is by far the hardest sub-chapter up to this point, even harder than Low Tide Beach, Jail Break Tunnel and Capone's Jail. Every stage here is at least somewhat difficult and requires a different strategy, so expect to change your lineup frequently. Having most if not all of the Crazed Cats and True Form Normal Cats is highly recommended for this sub-chapter.
One of the hardest stages is Marco Po Road, which becomes almost unbeatable if the player takes doesn't win fast enough, which isn't easy due to the presence of Teacher Bun Bun and the sheer amount of HP on the enemy base. However, it can be cheesed using Li'l Tank Cat.
Another one of the hardest stages is Godiego Pass, which contains three Dober P.Ds. Unlike Pigpen Taboo, however, the stage gives the player a source of money throughout the battle.
2★ difficulty for this sub-chapter multiplies enemy strength magnifications by 140%.
3★ difficulty for this sub-chapter multiplies enemy strength magnifications by 160%.
4★ difficulty for this sub-chapter multiplies enemy strength magnifications by 140% and only allows Special Cats and Rare Cats to be deployed.
New Features
This sub-chapter introduces three new enemies:
List of Stages
Stage number & cost
Stage name
Description
1-20-1
Gandara's Rest (ガンダーラ休憩所, Gandāra Kyūkeisho, Gandara Rest)
THE SLOTH serves as the boss with Shy Boys and Ginger Snaches spawning non-stop.
85
1-20-2
Utopia is Over There (ユートピアはあちら, Yūtopia wa Achira, Utopia is Over There)
Sir Metal Seal serves as the boss with a lot of Hippoes, Metal Hippoes, Super Metal Hippoes and Heavenly Hippoes.
90
1-20-3
Godiego Pass (ゴダイゴ峠, Godaigo Tōge, Godiego Pass)
The Face appears as a boss at the start of the battle. Besides The Face, there are also Dober P.Ds (up to 3) and 3 Shadow Boxer Ks which spawn repeatedly at a low rate.
100
1-20-4
Monkey Magic (モンキーマジック, Monkī Majikku, Monkey Magic)
Director Kurosawah serves as the boss with the original Dark Emperor Nyandam, Wall Doges and Gory Blacks.
95
1-20-5
Outsider's Gate (異国の門, Ikoku no Mon, Foreign Land's Gate)
Master A. will be spawned at a slow rate as well as the occasional trio of Owlbrows.
100
1-20-6
Marco Po Road (マルコ・ポーロード, Maruko Pō Rōdo, Marco Po Road)
Teacher Bun Bun serves as the boss with Doge, Doge Dark and Gabriel. The Doge variants spawn with higher and higher strength magnifications as the level progresses, much like in Star Ocean. The enemy base also has a massive amount of HP compared to most other stages.
100
1-20-7
Pig Swill (豚の残飯, Buta no Zanpan, Pig Swill)
A bunch of Wall Doges are spawned at the beginning of the stage. Kory will appear when one of them dies. Bores and Ginger Snaches are spawned constantly as the enemy base takes damage.
95
1-20-8
Imp's cold sweat (河童の冷や汗, Kappa no Hiyaase, Kappa's Cold Sweat)
After ~13 seconds, Sunfish Jones appears as a boss with a group of Those Guys. Ginger Snache, Gabriel and Angelic Gory appear as support throughout the battle.
120
Material Drop Rates
| None | Bricks | Feathers | Coal | Sprockets | Gold | Meteorite | Beast Bones | Ammonite |
| --- | --- | --- | --- | --- | --- | --- | --- | --- |
| 57% | 10% | 10% | 8% | 4% | 10% | 0% | 1% | 0% |
Trivia
The name of this sub-chapter is a direct reference to the Silk Road, which was a trade route primarily supplying spices across the East and Western landmass. It started from the second millennium BC; and is now a railroad, as constructed in 2013 according to the Belt and Road initiative.
Reference
---
<< Capone's Jail | Stairway to Darkness >>
---