For the campaign with a similar name, see Silver Week Campaign Event.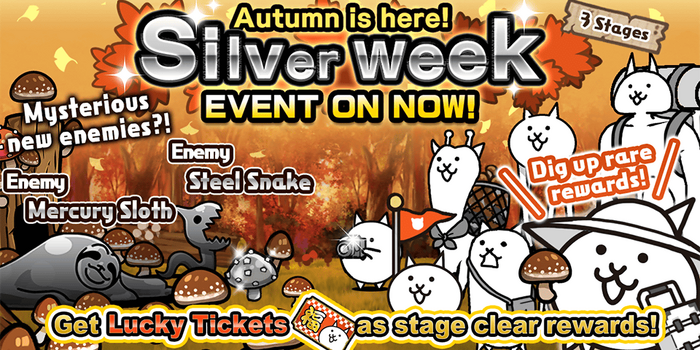 Silver Week is an event in The Battle Cats that is held annually during public holidays in Japan.
Autumn Colored Silver Week Event from September 11th (11:00am) until Sept 25th (10:59am).
Silver Week event has been released from September 22nd (11:00am) until October 6th (11:00am).
Event
During this event, from the Stories of Legend menu, tap the "Start" button to see a new event chapter called Silver Week. This event introduces two new enemies: Steel Snake and Mercury Sloth. Upon completing these levels, the player will have a chance to receive many Lucky Tickets to spin the Lucky Cat Capsule.
*If the event does not appear, the player needs to update the game to the latest version
The Lucky Cat Capsule is held during this event. It contains many limited characters and items such battle items and XP. Lucky Tickets can be obtained by clearing the Golden Week stages mentioned above and by playing the Rare Cat Capsule (1 spin = 1 lucky ticket).
*When the event ends, unused Lucky Tickets can't be exchanged anymore.
List of Stamps
Day 1: XP +5,000
Day 2: Speed Up +1
Day 3: Rich Cat +1

Day 4: XP +10,000
Day 5: Treasure Radar +1
Day 6: Cat CPU +1

Day 7: XP +15,000
Day 8: Sniper Cat +1
Day 9: Rare Ticket +1

Day 10: XP +20,000
Day 11: Cat CPU +1
Day 12: Treasure Radar +1

Day 13: Silver Ticket +1
Day 14: Cat Jobs +1
List of Stages
Silver Week
| | EN name | JP name | Translation | Difficulty |
| --- | --- | --- | --- | --- |
| Stage 1 | No Shame in 2nd | 二位だっていいじゃない (Ni i datte Ī janai) | We Could Come in Second | Easy |
| Stage 2 | Silver Anniversary | 結婚25周年 (Kekkon 25 Shūnen) | 25th Wedding Anniversary | Normal |
| Stage 3 | A Distant Road | はるかな道 (Harukana Michi) | Far-off Path | Veteran |
Gallery
Reference
Community content is available under
CC-BY-SA
unless otherwise noted.