Fire Emblem Warriors: Three Hopes - The Loop
Play Sound
Squire Rel (リッスントゥミ Rissuntumi) is a Traitless enemy that appears in the Main Chapters, Legend Stages and Catclaw Dojo.
Enemy
Yet another basic peon, just with quick attack speed and high speed in general. Squire Rel is a very weak enemy overall, due to her low health and attack power. Her short range makes her vulnerable to attack by almost any unit, and she usually appears in clusters as easily defeatable peons throughout the entire game.
Strategy
She can be quickly killed with one Macho Cat if she's all alone. Groups of Squire Rels can be killed by a Cow Cat, Rocker Cat or an Area Attacker like Bird Cat or Titan Cat. Wave Attacks from the Cat Cannon or any Wave Attack Cat can clear out a horde of Squire Rels in one shot.
Dictionary
Enemy Unit

#

015

Traitless
Squire Rel

EN Description
She speaks an old English dialect (?)
No, seriously, it sounds like English, but
it's too hard understand what she says.
Works at the English school near the station.
Enemy Unit

#

015

Traitless
リッスントゥミー (Rissuntumi)

JP Script
独自で編み出した英語をしゃべるリス。
発音はなんだか英語っぽいけども
何を言っているのかわからない。
普段は駅前の英語教室で講師を務める。
EN Translation
A squirrel who speaks in its own creative style of English.
Its pronunciation sounds like English, but I can't understand it.
Usually found working at the English school down by the station.
Variant
| Name | Appearance | Information |
| --- | --- | --- |
| Sir Rel | | A Relic variant of Squire Rel, with insane DPS and much higher health, speed and knockbacks. Like most Relic enemies, he has a guaranteed chance to Curse Cat Units. |
Stats
Squire Rel
Health
Attack Power
Attack Range
Attack Frequency
Movement Speed
Knockback
Attack Animation
80 HP
30 damage
(56 DPS)
110
(Single Target)
16f 0.53 seconds
30
3 times
8f 0.27s
(8f 0.27s backswing)
Special Ability
Type
-
Traitless
Existence Elsewhere
Kumanchu Royale
Squire Rel was one of the many returning enemies in Kumanchu Royale.
Nyanko Daibōsō
Squire Rel appeared as a regular enemy in Nyanko Daibōsō.
Nyanko Defence Force
In Nyanko Defence Force, Squire Rel made a cameo appearance as a stone statue in one of the backgrounds.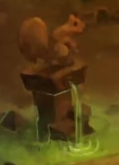 Squire Rel Statue
Gallery
Trivia
Her Japanese name, Rissuntumi, literally translates to "listen to me", but is also a pun with risu, meaning "squirrel".
References the English conversation schools commonly found outside train stations across Japan. None of them have a squirrel as a mascot however, although arguably the most infamous chain did have a rabbit-like thing.
Reference
---
<< B.B.Bunny | Assassin Bear >>
---