Steamworks Ltd. is the first stage in Battle in the Bath.
Battleground
Strategy
Strategy 1
Lineup: Li'l Eraser (or Riceball with Freeze Immunity), Li'l Flying Cat 50+11, Yulala (Optional), Fishman Cat, Housewife Cat. The rest combos or ubers.
Li'l Flying can be replaced by Sarukani, Baseball Mask B or Manic Flying Cat, but the latter is less recommended.
Battle: Start with 3 Li'l Flying Cats, then spam Li'l Erasers for the rest of the fight, except the end.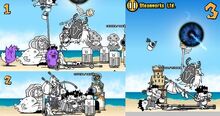 The next step is to summon a Houswife Cat and time Li'l Flying for when the Zuches burrow. Try to also have Fishmen get into Henry's blindspot. Eventually you should be able to cause a knockback to Henry, as well as keeping Gravey under slowness most of the time. Prioritize anything above Yulala, but if you have money, time it to get into Henry's blindspot to help with damage. After a while, a bunch of Houswives will stack in front of Gravey, Z-killing any remaining Coffin Zoge and keeping both bosses at bay with damage and slowness. If all is done correctly, Henry should die after a while and the zombies will stop spawning, allowing you to stack multiple Houswives and win.
Reference