Steanworks Ltd. (有限会社湯気) is the first stage in Battle in the Bath.
Battleground
At the start of the battle, 8 Coffin Zoges spawn, delay 20 seconds.
After 6.7 seconds200f, 1 Henry spawns.
After 13.3 seconds400f, 2 Zuches spawn, delay 10~13.3 seconds300~400f.
After 20 seconds, 1 Lord Gravey spawns.
After 46.7 seconds1400f, 2 more Zuches spawn, delay 6.7~10 seconds200~300f.
After 93.3 seconds2800f, 10 final Zuches spawn, delay 10~13.3 seconds300~400f.
Strategy
Strategy1 (Uberless)
Lineup:
Li'l Flying (50+11) can be replaced by Sarukani, Baseball Mask B or Manic Flying, but the latter is less recommended.
Yulala is entirely optional.
Battle: Start with 3 Li'l Flying Cats, then spam li'l Eraser for the rest of the fight, except the end.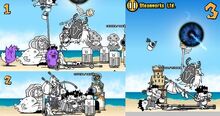 The next step is to summon an Houswife Cat and time Li'l Flying for when the Zuches burrow. Try to also have Fishmen get into Henry's blindspot. Eventually you should be able to cause a knockback to Henry, as well as keeping Gravey under slowness most of the time. Prioritize anything above Yulala, but if you have money, time it to get into Henry's blindspot to help with damage. After a while, a bunch of Houswives will stack in front of Gravey, zombie killing any remaining Coffin Zoge and keeping both bosses at bay with damage and slowness. If all is done correctly, Henry should die after a while and the zombies will stop spawning, allowing you to stack multiple Houswives and win.
Strategy 2: Uber
This is a an alternative strategy to the one above, but includes several of the same principles.
I used defense up (s) combo Pork on Rice & Research Power Up (M) combo Cheating Heart?.
The other two spots were filled by Valiant Poseidon and Awakened Musashi.
Bottom row: Manic Eraser, Li'l Eraser (40+11), Ectoweight cat, Li'l Flying Cat, Housewife Cat.
The real key to this strategy is to use Valiant Poseidon to perma-freeze Gravey.
Start by upgrading worker cat to level 3. Then send out dual erasers and as many Li'l Flying Cats as needed to kill the Zuches. Once you have 4-5k time Poseidon to pass Henry and it should enter his blind spot. From here on out time Housewife Cat to dodge the freeze and any Zuches that burrow behind should be killed with Li'l Flying Cats. Don't waste too much money on them, because they won't pass through Henry's attack.
Don't worry if Henry gets knocked back freezing Poseidon. You'll have a sizable stack of Housewives and Poseidon has a quick recharge. If you have him available, this stage becomes a cakewalk.
Cheers.
Reference
Community content is available under
CC-BY-SA
unless otherwise noted.