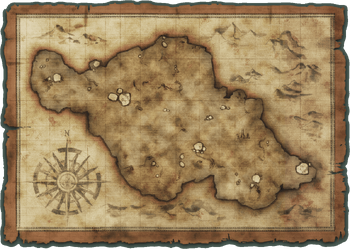 Suburbs of the Dead (亡者の住まう地 Mōja no Sumau Ji, Homes of the Dead) is the 34th sub-chapter of Stories of Legend, added in version 5.6.0 and available up to 4★ difficulty. This sub-chapter, such as the name implies, revolves around the Zombie enemy type as a main focus in a majority of the levels.
Difficulty
Difficulty depends on your cats, especially anti-Zombies. Without proper knowledge and strategy this sub-chapter could be the start of a players nightmare. Still should not be underestimated. By this point in the game you should have several Manic Cats and possibly your first Advent Stage reward too (e.g., Express Cat).
2★ difficulty for this sub-chapter multiplies enemy strength magnifications by 120%.
3★ difficulty for this sub-chapter multiplies enemy strength magnifications by 140%.
4★ difficulty for this sub-chapter makes no change to enemy strength magnifications and only allows Special Cats and Rare Cats to be deployed.
New Features
Suburbs of the Dead features the same Zombies that may appear in the Zombie Outbreaks that occur in the first chapter of Empire of Cats, though this is the first time they appear in Stories of Legend. There are two abilities possessed by most Zombies: Burrowing past your cats, and reviving once with 50% HP.
List of Stages
Stage number & cost
Stage name
Description
1-34-1
Home Sweet Mausoleum (死霊の館, Shiryō no Yakata, Spirit Estate)
Once the enemy base is damaged, tons of Zoges and a few Doge Darks will spawn. Be wary, as the respawning Zoges can harm your front line when they're attacking the base if they do not die behind the enemy base.
110
1-34-2
Swamp of Sacrifice (いけにえ沼, Ikenie Numa, Sacrificial Swamp)
THE SLOTH appears with assistance from constantly spawning Znaches and Zackie Pengs to support. The stage width is fairly small, so be on watch for any burrowing Znaches trying to attack your Cat Base.
115
1-34-3
Dungeon of Dreams (ムール街の悪夢, Mūru-gai no Akumu, Nightmare of Moor Street)
Sunfish Jones and two Berserkories team together with Gabriel. All of the enemies will spawn without damaging the enemy base, and the stage width is one of the smallest in the entire game, so small that Sunfish Jones can cover almost the entire stage.
120
1-34-4
Revenant Road (ポルターガイストリート, Porutāgaisutorīto, Poltergei-street)
Zrocos, Zomboes and B.B.Bunnies will attack when the battle begins so you can build up cash. When the enemy base is damaged, Teacher Bun Bun will spawn with assistance from a Zir Zeal.
110
1-34-5
Ghostlight Gardens (ホワイト・ライト・ナイト, Howaito Raito Naito, White Light Night)
Camelle, H. Nahs and Brollows spawn in swarms on a timer. Outlast the Brollows for 50 seconds and dispatch Camelle and H. Nahs as normal. Can be cheesed by Maglev Cat, Manic Lion Cat and Awakened Bahamut Cat.
120
1-34-6
Silenced Meowing (猫たちの沈黙, Neko-tachi no Chinmoku, Silent Cats)
The stage begins with Shadow Boxer Ks and Gory Blacks. Once the enemy base is damaged, Lord Gravey and many other Zombie enemies spawn to assist, notably Zang Roo and Zory. A large stack of ranged units is recommended to hurt Gravey and his support.
140
Material Drop Rates
| None | Bricks | Feathers | Coal | Sprockets | Gold | Meteorite | Beast Bones | Ammonite |
| --- | --- | --- | --- | --- | --- | --- | --- | --- |
| 51% | 6% | 6% | 6% | 0% | 4% | 0% | 27% | 0% |
Reference
---
<< Axis of Evil | Quarantine Isles >>
---
.
Community content is available under
CC-BY-SA
unless otherwise noted.