For the enemy of the same name, see Super Metal Hippoe (Metal).
Super Metal Hippoe
(超メタル降臨 激ムズ, Chō metaru kōrin geki muzu, Super Metal Arrival (Expert)) is one of the special stages where the player can get a
Cat Ticket
upon clearing.
Battleground
Strategies
Strategy 1 (speedrun)
Note that using energy refills for grinding in this stage is a viable way to get, on average, a rare ticket per 120 catfood worth of refills, as long as you have all energy up treasures. This strategy is to allow more advanced players to do so, but it can be used, with eventual, minor tweaks, by everyone who just wishes to complete this stage fast when it comes up.
Lineup:
Feel free to replace the combos for better ones, if you have certain ubers with good combos.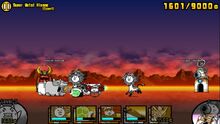 Battle: Depending By the level of your Crazed Giraffe and weather or not it's in true form, you should either start with Waitress (can be below level 30, she just needs to one-shot SMH, which doesn't take much) and follow with 2 high level Manic Lions or start with a Crazed Giraffe, then Waitress, then another Crazed Giraffe. After these 3 units, summon Maglev then keep spamming Crazed Giraffe and add a Zamboney when Waitress is close to the base. If Waitress can land an attack before SMH spawns, it's ok, but you should delay her spawn more the next time, while you should summon her earlier if she is still far from the base when that happens. Once SMH spawns, Zamboney will keep it in place while Waitress attacks immediately and kills it, as the Giraffes take care of the peons. Use the money from the boss for A.Bahamut. The Crazed Giraffes will push Metal Hippoe behind the base and let everyone hit it until it's destroyed. There is no need for precise timing; as long as you remember the summoning order, victory will be fast and easy every time.
Appears
1st (7:00am-8:00am)
4th (11:00am-12:00pm)
7th (4:00pm-5:00pm)
10th (8:00am-9:00am)
13th (12:00pm-1:00pm)
16th (5:00pm-6:00pm)
19th (1:00pm-2:00pm)
22nd (7:00pm-8:00pm)
25th (8:00pm-9:00pm)
28th (9:00pm-10:00pm)
31st (10:00pm-11:00pm)
Please note that this stage appears depending on your device's time and date.
Gallery
Reference
Community content is available under
CC-BY-SA
unless otherwise noted.