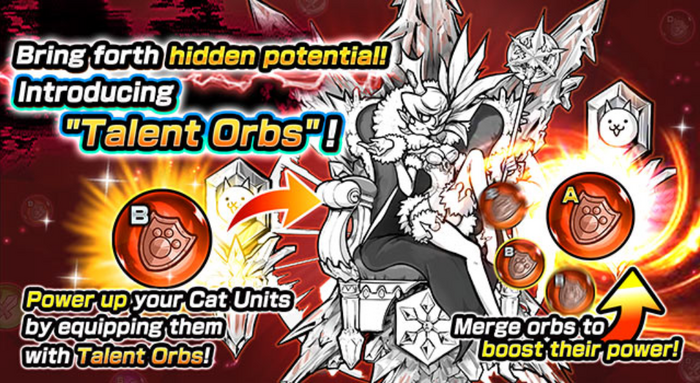 Talent Orbs (also just known as Orbs) are a feature implemented in Version 9.7. This feature allows players to improve the base damage or health of certain True Form Cats against one of many enemy traits. Talent Orbs become available after clearing Into the Future Chapter 3.
Overview
A Talent Orb is a type of item which can be given to a unit from the Upgrade Menu by going left in the Talents upgrade screen. Each unit can only hold one Talent Orb at a time. Once equipped, a Talent Orb can still be powered up through merging or it can be removed for 10 NP. Talent Orbs exist in different grades and can be obtained from certain Enigma Stages and Gauntlets or by merging lower-grade Talent Orbs with the exact same type, target and grade. Talent Orbs have a section in the Storage alongside Cats and Catfruit, where they can be merged or sold for NP.
Grade
Merging

Cost

NP

value

S
A (x3)
25
A
B (x3)
7
B
C (x2)
2
C
D (x2)
1
D
-
1
Orb Types
There are currently 65 different Orbs, each with a Grade, Target and Type.
Grades:
S (highest; best effect)
A
B
C
D (lowest; minimal effect)
Targets:
Types:
Attack Up: Deals more damage to Target.
Defense Up: Receives less damage from Target.
Strong Against Up: Reduces all damage taken from a trait, as well as increasing the damage multiplier from the "Strong Against" ability.
Massive Damage Up: Increases the damage multiplier from the Massive Damage ability.
Resistance Up: Reduces all damage taken from a trait. Affects the Resistant ability.
Note: Talent Orbs do not add a target trait to units with anti-trait abilities, but merely increase attack or defense against that target trait. For example: If Roe Cat is given a Defense Up S: Floating Orb, it will be able to resist Floating attacks more than non-Red, though not as much as Red Enemies, but it cannot weaken Floating. However, when Cursed, it'll resist Floating attacks better than Red.
Abilities
Strong Against Up
Orb Grade
Orb Effect
Secondary Orb Effect
S
+0.3x Attack Multiplier
-10% Damage Reduction
A
+0.24x Attack Multiplier
-8% Damage Reduction
B
+0.18x Attack Multiplier
-6% Damage Reduction
C
+0.12x Attack Multiplier
-4% Damage Reduction
D
+0.06x Attack Multiplier
-2% Damage Reduction
Massive Damage Up
Orb Grade
Orb Effect
S
Attack Multiplier +0.5x
A
Attack Multiplier +0.4x
B
Attack Multiplier +0.3x
C
Attack Multiplier +0.2x
D
Attack Multiplier +0.1x
Resistance Up
Orb Grade
Orb Effect
S
-25% Damage Taken
A
-20% Damage Taken
B
-15% Damage Taken
C
-10% Damage Taken
D
-5% Damage Taken
Defense Up
Orb Grade
Orb Effect
S
+20% Damage Reduction
A
+16% Damage Reduction
B
+12% Damage Reduction
C
+8% Damage Reduction
D
+4% Damage Reduction
Attack Up
Orb Grade
Orb Effect
S
+(5 x IS*) AP
A
+(4 x IS*) AP
B
+(3 x IS*) AP
C
+(2 x IS*) AP
D
+(1 x IS*) AP
* IS = Initial Stat = Units' attack power without any level upgrades, Talents or Treasures.

Attack Up Orbs' effects are additive and cannot stack with any offensive abilities.
Drop Rates
Probability of each Level of Orb from Orb Enigma Stage
| Area | Special D Grade | Normal D Grade | Normal C Grade | Normal B Grade | Normal A Grade |
| --- | --- | --- | --- | --- | --- |
| Cradle | 3% | 82% | 15% | - | - |
| Summit | 4.5% | 75.5% | 17% | 3% | - |
| Frontier | 6% | 65% | 22% | 7% | - |
Special Grade Orbs are Strong, Massive Damage, and Resistant Orbs. Others are Attack and Defense.
Drop %age of Continuation Stage
Gauntlet Stage
Cradle Wilderness
Summit Wilderness
Frontier Wilderness
Stage 1
1%
-
-
Stage 2
3%
-
-
Stage 3
7%
-
-
Stage 4
11%
-
-
Stage 5
15%
-
-
Stage 6
18%
-
-
Stage 7
21%
-
-
Stage 8
24%
-
-
Stage 9
27%
-
-
Stage 10
30%
-
-
Stage 11
34%
1%
-
Stage 12
36%
2%
-
Stage 13
40%
3%
-
Stage 14
46%
5%
-
Stage 15
50%
10%
-
Stage 16
78%
21%
1%
Stage 17
77%
21%
2%
Stage 18
72%
25%
3%
Stage 19
69%
26%
5%
Stage 20
59%
31%
10%
Notes
Just like Talents, Orbs only take effect for a unit's True Form.
Despite being trait-specific, Orbs are not nullified by the Curse effect.
Because rarer Orb Enigma Stages are more difficult but only have a marginally better chance to drop high-tier Orbs, a player wishing to farm Orbs may want to keep their Enigma Level low so that they have a better chance at finding the easier stages.
When farming for NP, it is more efficient to sell orbs of grade D than to save them for merges. For all other orbs it is most efficient to merge them all the way to S, then sell it if it's attack, and either sell or use it if it's defense.
There is an event stage dedicated to farming orb Enigma maps.

Monday, Wednesday and Friday: 11:00 ~ 13:00
Tuesday and Thursday: 20:00 ~ 22:00
Friday: 11:00 ~ 13:00
Saturday and Sunday: 11:00 ~ 13:00 and 20:00 ~ 22:00

Enigmas found in Isle of the Map Lord will always lead to stages that drop Orbs, making it the best way to farm them.

It is optimal to farm the second stage as it is much faster, and Superior Enigmas are much harder than Inferior / Normal ones while having almost the same drop rates.
Gallery
Trivia
Though having basic sprites in the game's files, Traitless and Relic Talent Orbs are unused and can't be obtained through normal means.
Prior to Version 9.8, only a few of the units with Talents could have Orbs given to them. The reason for this is unknown, as there was no clear criteria for who could and who couldn't. The specific units included:
Prior to Version 11.4, the Talent Orb Storage had the same interface as the Cat Storage and could only hold up to 128 Orbs at a time.