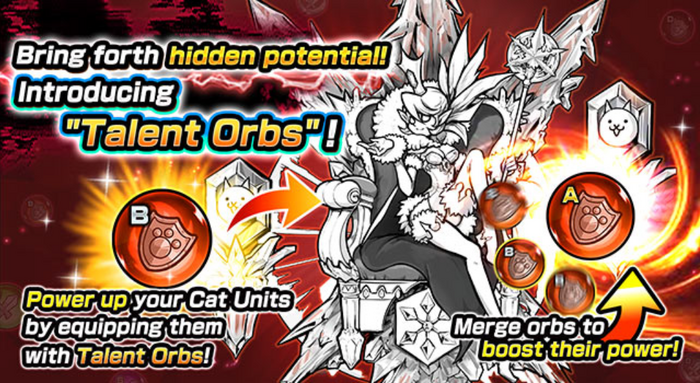 Talent Orbs (also just known as Orbs) are a feature implemented in version 9.7. This feature allows players to improve the base damage or health of certain True Form Cats against one of many enemy traits. Talent Orbs become available after clearing Into the Future Chapter 3.
Overview
A Talent Orb is a type of item which can be given to a unit from the Upgrade Menu by going left in the Talent upgrade screen. Each unit can only hold one Talent Orb at a time. Once equipped, a Talent Orb can still be powered up through merging or it can be removed for 10 NP. Talent Orbs exist in different grades and can be obtained from certain Enigma Stages or by merging lower-grade Talent Orbs with the exact same type, target and grade. Talent Orbs have a section in the Storage alongside Cats and Catfruit, where they can be merged or sold for NP. A Unit must have access to Talents to be given Talent Orbs (Note: NOT all Talented units can be given Talent Orbs in version 9.7).
Grade
Effect

(Attack Up)

Effect

(Defense Up)

Merging

Cost

NP

value

S
+(5 x base stat*) AP
+20% HP
A (x3)
25
A
+(4 x base stat*) AP
+16% HP
B (x3)
7
B
+(3 x base stat*) AP
+12% HP
C (x2)
2
C
+(2 x base stat*) AP
+8% HP
D (x2)
1
D
+(1 x base stat*) AP
+4% HP
-
1
* Refers to units' attack power

without

any level upgrades, Talents or Treasures. An Attack Up Orb's effect

cannot

be affected by offensive abilities such as Weaken, Strengthen or Massive Damage.
Types of Orbs
There are currently 65 different Orbs, each with a Grade, a Target and a Type.
Grades:
S (highest; best effect)
A
B
C
D (lowest; minimal effect)
Targets:
Types:
Attack Up: Deals more damage to Target
Defense Up: Receive less damage from Target
Note: Talent Orbs do not add a target trait to units with anti-trait abilities, but merely increase attack or defense against that target trait. For example: If Roe Cat is given a Defense Up S: Floating Orb, it will be able to resist Floating attacks more than non-Red, though not as much as Red Enemies, but it cannot weaken Floating. However, when Cursed, it'll resist Floating attacks better than Red.
Notes
Just like Talents, Orbs only take effect for a unit's True Form.
Despite being trait-specific, Orbs are not nullified by the Curse effect.
Because rarer Orb Enigma Stages are more difficult but only have a marginally better chance to drop high-tier Orbs, a player wishing to farm Orbs may want to keep their Enigma Level low so that they have a better chance at finding the easier stages.
Enigmas found in Isle of the Map Lord will always lead to stages that drop Orbs, making it the best way to farm them.
Trivia
Though having basic sprites in the game's files, Traitless and Relic Talent Orbs are unused and can't be obtained through normal means.
Prior to version 9.8, only the following units could be given Talent Orbs:
Gallery
Community content is available under
CC-BY-SA
unless otherwise noted.