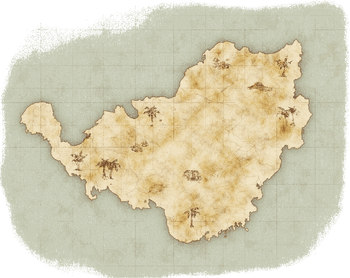 The Endless Wood (アドベン大森林 Adoben Dai Shinrin, Adven Great Forest) is the 3rd sub-chapter of Uncanny Legends, and the 52nd sub-chapter overall. It was added in version 7.1, and is currently available up to 2★ difficulty.
Difficulty
Similarly to the previous sub-chapter, the difficulty level of The Endless Wood isn't too high, although some stages may be tricky to beat. It's recommended to get Figure Skating Cats' True Form or a good anti-everything Uber Rare at this point, as Relics are starting to become real threats.
2★ difficulty for this sub-chapter multiplies enemy strength magnifications by 150%.
New Features
This sub-chapter introduces one new enemy:
List of Stages
Stage number & cost
Stage name
Description
2-3-1
Kosamin Ruins (コサ民遺跡, Kosamin Iseki, Kosamin Ruins)
Doge, Snache, Those Guys and Gabriel appear as peons. The boss is a trio of buffed Winged Pigges.
175
2-3-2
Shallow Sea Green (デンジロー海原, Denjirō Unabara, Denjiro Ocean)
Sir Metal Seal is a constant threat while Mistress Celeboodle and Kroxo appear as support.
175
2-3-3
Playing Bandits (山賊かぶれ, Sanzoku-kabure, Banditized)
The main threat, a group of Oldhorns, will emerge when you damage the enemy base. Support includes Pigge and Relic Doge.
165
2-3-4
Buggy Hollows (くりくりくぼみ,Kurikuri Kubomi, Big and Round Hole)
A highly buffed Dagshund and three Duches are the boss of this stage, and respawn every so often. Zoge and Znache appear as peons, and Zigge will join in after a while.
165
2-3-5
Thriller Grin (スリルの談笑 Suriru no Danshō, Thrilling Chat)
Three very strong Mistress Celeboodles are spawned at the beginning of the level to stall the player. After attacking the enemy base, Professor A., Elder Sloth and several Otta-smack-us will spawn at once, with Ottas respawning as constant threats.
175
2-3-6
John Gool (ジャン・グール, Jan Gūru, Jean Gool)
The battle begins with a lone Bore. Soon, a quartet of Sir Rels will spawn. Not long after, Nimoy Bore spawns, followed shortly by a large wave of Sir Rels. This process will then repeat, with a Bore followed by more Sir Rels, etc. After 140 seconds, Sir Rels will be the only enemies that spawn.
200
Material Drop Rates
| None | Bricks | Feathers | Coal | Sprockets | Gold | Meteorite | Beast Bones | Ammonite |
| --- | --- | --- | --- | --- | --- | --- | --- | --- |
| 33% | 15% | 0% | 4% | 4% | 4% | 15% | 15% | 11% |
Reference
---
<< Here Be Dragons | Primeval Currents >>
---
Community content is available under
CC-BY-SA
unless otherwise noted.