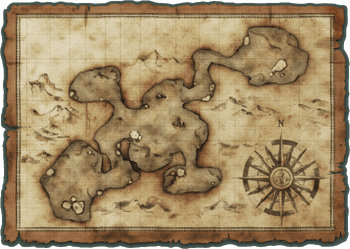 The Gelatin Mines (ところてん金鉱 Tokoroten Kinkō, Tokoroten Jelly Gold Mine) is the 21st sub-chapter of Uncanny Legends, and the 70th sub-chapter overall. It was added in Version 9.2, and is available up to 4♛ difficulty.
Difficulty
This sub-chapter is not very difficult except for the third stage and possibly the fourth stage.
2♛ difficulty for this sub-chapter multiplies enemy strength magnifications by 140%.
3♛ difficulty for this sub-chapter multiplies enemy strength magnifications by 180%.
4♛ difficulty for this sub-chapter makes no change to enemy strength magnifications and only allows Special Cats and Rare Cats to be deployed.
New Features
This sub-chapter introduces two new enemies:
This sub-chapter also includes a new obtainable unit, Urs & Fenrir. They have a 3% chance to drop from the final stage (100% if a Treasure Radar is used).
List of Stages
Stage number & cost
Stage name
Description
2-21-1
Furry Cavern (毛深き坑道, Kebukaki Kōdō, Hairy Tunnel)
Dark Emperor Nyandam appears after 2 seconds supported by constant Wall Doges and Trolly Bloggers. A Ms. Sign will spawn after about 175 seconds, which indicates the following 10000% Assassin Bear swarm.
170
2-21-2
Mandatory Fun (楽しい強制労働, Tanoshī Kyōsei Rōdō, Fun Forced Labor)
The Thrillerz, Snaches and Baa Baas are sent as peons. When the enemy base is damaged, Le'Solar will spawn, supported by Zuches, Shibalien Elites, and more Thrillerz.
180
2-21-3
Gas-Powered Birds (ガス吸う鳥, Gasu Suu Tori, Gas-inhaling Bird)
Three Metal Hippoes will spawn close to the start, shortly followed by three Owlbrows. One Winged Pigge will come soon after. All that is left are two Angelic Gories, one Metal One Horn and one last Winged Pigge.
180
2-21-4
Stars in the Sewers (星々を映す地下水, Shinshin o Utsusu Chika Mizu, Star-reflecting Groundwater)
Doges, Snaches, Hippoes and Kang Roos will appear as peons. When the base is hit, Croakley, Dober P.D and R.Ost spawn together.
190
2-21-5
Postapocalypse Panic (大崩落パニック, Dai Hōraku Panikku, Great Collapse Panic)
Six Coffin Zoges, ten Znaches, one Hackey, five Zomboes, ten Zrocos and two Zir Zeals will spawn over the course of the battle.
200
2-21-6
Lifesaving Shovel (スコップ一つに賭す命, Sukoppu Hitotsu ni Tosu Inochi, A Shovel to Bet One's Life On)
Many Croconators appear as peons, with Urs & Fenrir spawning after 3.3 seconds. The only other enemies that appear are three Rain Ds.
250
Material Drop Rates
| None | Bricks | Feathers | Coal | Sprockets | Gold | Meteorite | Beast Bones | Ammonite |
| --- | --- | --- | --- | --- | --- | --- | --- | --- |
| 33% | 7% | 3% | 3% | 10% | 7% | 10% | 23% | 3% |
Trivia
The Japanese name of this sub-chapter refers to Tokoroten, a gelatin-like dish. Unlike gelatin deserts however, tokoroten has a firm texture.
Reference
---
<< The Devils' Academy | Drunken Foundry >>
---