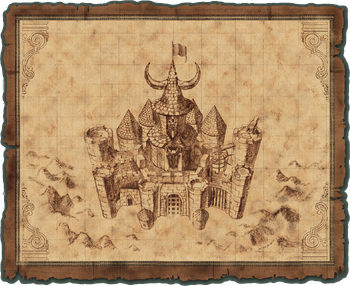 The Legend Ends (伝説のおわり Densetsu no Owari, End of the Legend) is the 48th sub-chapter of Stories of Legend, added in version 7.0. This sub-chapter is available up to 4★ difficulty.
Difficulty
Many of these stages can be extremely challenging without counters to the main threats. Stage 7 requires a lineup strong enough to withstand each of the bosses there, fast units help a lot in Stage 5, and Barrier Breakers and wave-immune units are almost mandatory for Stage 6. Any one of the first six stages could be the hardest depending on one units, while the last two are ironically the easiest.
2★ difficulty for this sub-chapter multiplies enemy strength magnifications by 120%.
3★ difficulty for this sub-chapter multiplies enemy strength magnifications by 130%.
4★ difficulty for this sub-chapter makes no change to enemy strength magnifications and only allows Special Cats and Rare Cats to be deployed.
List of Stages
Stage number & cost
Stage name
Description
1-48-1
A Day of Reckoning (決断の時, Ketsudan no Toki, Time of Resolve)
Camelle serves as the boss, with support from Capies and Gabriels.
190
1-48-2
Thirst for Vengeance (復讐の準備, Fukushū no Junbi, Preparing for Vengeance)
Razorback and Professor A. are the main threats, with Tackey and Hackey appearing as support.
170
1-48-3
Glory of Glories (栄光のグローリー, Eikō no Gurōrī, Glory of Glory)
Zamelle, Big Sal and four Coffin Zoges.
170
1-48-4
A Moment of Serenity (命のせせらぎ, Inochi no Seseragi, Sound of Fate)
Mr. Angels appear as peons, with Boraphim and several other Angels spawning when the enemy base is attacked. The enemy limit here is unusually low.
180
1-48-5
False Resurrection (復活の偽呪文, Fukkatsu no Nise Jumon, False Resurrection)
Mr. Mole, Henry, Croakley and Dolphina form a devastating combo alongside periodic Li'l Bun Buns and two Assassin Bears that spawn on timers. The enemy base here is a Doge Base.
180
1-48-6
Goblet of the Oath (契約の杯, Keiyaku no Hai, Cup of Agreement)
Constantly-spawning Pigeon de Sables and UltraBaaBaas assist the main threats, Two Can and Youcan.
190
1-48-7
Twilight Zephyr (風そよぐ黄昏時, Kaze Soyogu Tasogaretoki, Twilight Zephyr)
A "boss rush" stage like Kugel Schreiber, this one containing Shy Boy, Master A., Kory, Metal One Horn, Director Kurosawah, Bore, Camelle , R. Ost, Boraphim and Teacher Bun Bun, in that order.
200
1-48-8
Unkept Promises (破られた誓い, Yabura Reta Chikai, Broken Oath)
Just an enemy base with a massive amount of HP, 9,999,999 to be exact. However, if the player takes over 3 minutes and 20 seconds to complete the stage, a huge swarm of overbuffed Doge variants will spawn, usually resulting in defeat.
800
Material Drop Rates
| None | Bricks | Feathers | Coal | Sprockets | Gold | Meteorite | Beast Bones | Ammonite |
| --- | --- | --- | --- | --- | --- | --- | --- | --- |
| 46% | 9% | 2% | 9% | 4% | 13% | 8% | 9% | 0% |
Trivia
Even though this chapter is called The Legend Ends, it is not the last sub-chapter of Stories of Legend. Laboratory of Relics is actually the last stage, as indicated below.
Reference
---
<< Ends of the Earth | Laboratory of Relics >>
---
Community content is available under
CC-BY-SA
unless otherwise noted.