Raise a Floppa - The Loop
Play Sound
The Night of Claws is the second stage in Ancient Mountains. This stage is a remake of Underground Base.
Battleground
Strategy
Strategy 1
Lineup: Sister Act, Fishman Cat, Wrestling Cat (for Sportswoman), Prof. Cat Jobs, Metal Macho, Jellycat, Awakened Bahamut Cat.
You equip Bullet Train Cat or other helpful units in the last 2 slots, you can also use other units in place of Jellycat.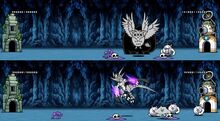 Battle: Start with 2 Jellycats, then spam Metal Macho and Jelly while you save Fishman Cat for any Thrillerz who get too close to the Cat Base, as they are dangerous. Le'Solar will be dead in no time; Le'noir will take longer, but the burrowing peons will allow any Jellycat summoned to attack, which will clear said peons in 2 hits (Thrillerz revive, Owlbrows survive a hit). Awakened Bahamut Cat is to speed up Le'noir's defeat, as he is very tanky. If timed well, Metal Macho, a helper for the Thrillerz and Jellycat can solo the stage. You also do not need Worker levels as your entire army is cheaper to spam than just the meatshields in some other formations.
Reference