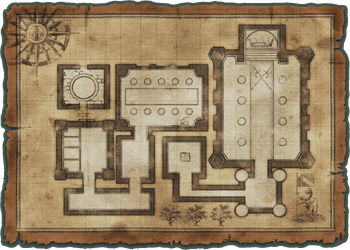 Theatre of Fear (キネマ怪館, Kinema kai-kan, Cinema Herk) is the 32nd sub-chapter of Uncanny Legends and the 81st sub-chapter overall. It was introduced in Version 10.2 and is currently only available in 1★ difficulty. Each stage in this sub-chapter focuses on a different trait of enemies.
Difficulty
Relatively easy compared to previous subchapters, if one knows what trait to expect. The last stage could prove problematic to some. Since all stages have a Relic Doge Base, Curse Immunity/Resistance is important to have.
New Features
This sub-chapter introduces one new enemy:
List of Stages
Stage number & cost
Stage name
Description
2-32-1
Spiraling Ring (らせん状リング, Rasen-jō ringu, Spiral Ring)
All enemies are Red. Nyandam, Professor A. and 2 Bores spawn once the base is hit, while red peons are always around. The base is a Relic Doge Base, get used to seeing it.
210
2-32-2
Payday the 13th (13日の給料日, 13-Nichi no kyūryōbi, The 13th Payday)
All enemies are Black. Bun Bun Black and three Tackeys spawn after a while, while Doge Darks and Dark Otters constantly spawn. This stage uses a Relic Doge Base too.
190
2-32-3
Normal Activity (ノーマル・アクティビティ, Nōmaru akutibiti, Normal Activity)
All enemies are Floating. Othom and Bun Bun Symbiote appear as the main threaths after a while, supported by Brollows, Pigeons and the Relic Doge Base.
180
2-32-4
Darkened House (ほんのり黒い家, Hon'nori kuroi ie, Slightly Black House)
All enemies are Angels. A boss fight against Cala Maria and Angelic Sleipnir, with the support of Angelic Gories, some peons and the usual Relic Doge Base.
190
2-32-5
Internal Scream (冷静スクリーム, Reisei sukurīmu, Calm Scream)
All enemies are Zombies. Zamelle, who comes out on base hit, is supperted by a trio of Zang Roos, a trio of Li'l Zyclones, several zombies and the Relic Doge Base.
180
2-32-6
A Pile of Guts (はらわたの史料室, Harawata no shiryō-shitsu, Archives of the Gut)
All enemies are Traitless. THE SLOTH and R. Ost come out on a time while many Bore Jr's and 5 Celeboodles keep the pressure high. There is also a Relic Doge Base.
260
Material Drop Rates
| None | Bricks | Feathers | Coal | Sprockets | Gold | Meteorite | Beast Bones | Ammonite |
| --- | --- | --- | --- | --- | --- | --- | --- | --- |
| 33% | 14% | 12% | 10% | 0% | 12% | 2% | 14% | 2% |
Reference
---
<< The Happy Lucky Temple | Diver's City >>
---
Community content is available under
CC-BY-SA
unless otherwise noted.