Fire Emblem Warriors: Three Hopes - The Loop
Play Sound
Those Guys (例のヤツ, Rei no Yatsu, "Those Guys") are a Traitless enemy that appears in the Main Chapters and Legend Stages.
Enemy
They have high health but low attack damage, kind of like a twisted counterpart of Tank Cat, but have a quick attack speed, resulting in higher DPS than Snache and Doge. However, they still get demoted to a minor annoyance in later stages.
Strategy
Those Guys can be somewhat hard for newer players because they have above-average health and only one knockback. However, one set of Those Guys is easily killable with an Axe Cat or even multiple Basic Cats. Without sufficient Treasures or Cat Cannon Power upgrades, Those Guys can survive one hit from the Cat Cannon.
When there are multiple clumps of them, they quickly turn into a nuisance, like in Denmark/Shizuoka. In these cases, Bird Cat, Titan Cat or any other unit with Area Attack can take care of them. Later on, though, they will turn into meatshields for harder enemies, like Le'boin, Master A. or Camelle. To clear out a group of them, Crazed Gross Cat or other Wave Attackers can be used. In Uncanny Legends, Those Guys are typically buffed to 4,000%. Having all Cannon damage Treasures is not enough; make sure that the Cat Cannon Power is at least level 11 so that this enemy doesn't start being a problem again.
Dictionary
Enemy Unit

#

002

Traitless
Those Guys

EN Description
A bunch of wusses who like to gang up.
Found each other on the internet.
Surprisingly,
all of them are quite rich.
Enemy Unit

#

002

Traitless
例のヤツ (Rei no Yatsu, Those Guys)

JP Script
一人だと心細いので、トリオで参戦。
一人目が「にゃんこ大戦争」への参加を
インターネットで募集して集まった。


三人ともけっこうお金持ち。

EN Translation
Because apart they are too weak, they fight in a trio.
One made a recruitment page online to fight in the war, two others answered.
All are quite rich.
Variants
| Name | Appearance | Information |
| --- | --- | --- |
| Firework Guys 1 | | A harmless pair of stick figures with a firework cannon. Can be found in many events. |
| Firework Guys 2 | | The same as Firework Guys 1, but with double the range. |
| Trolly Blogger | | An enemy commonly seen in later Legend Stages. Moves faster, with high range for a peon and the ability to push back Cat Units with his weak Area Attacks. |
| Mr. Angel | | An Angel variant of Trolly Blogger. Moves even faster than Trolly Blogger, gets knocked back more times and has a chance to weaken cats. |
| Penlight Guys | | A much weaker variant of Those Guys wearing neon colored bandanas and holding glowsticks with the same color. Found in the Crazed Moneko Stages and Hatsune Miku Stages. |
| The Thrillerz | | A Zombie variant of Those Guys, introduced in Into the Future Chapter 2's Zombie Outbreaks. They have higher health, damage and speed, revive once with 100% health and can burrow twice. |
| Cerberus Kids | | An Aku variant of Those Guys. They have a chance to freeze units they hit for 4 seconds, but are still Single Target and have short range. |
| Miz Devil | | An Aku variant of Mr. Angel. Has shorter range to allow for easier pushing, has one knockback as opposed to eight, and most of her health comes in the form of a Shield. |
| Archangel Exiel | | A much larger variant of Mr. Angel that appears in the Divine Archangel Strikes gauntlet. It has amazing stats across the board as well as Omni Strike, Warp, and Weaken. |
Encounters
Strength magnifications are 100% in Chapter 1, 150% in Chapter 2, and 400% in Chapter 3.
Strength magnifications are 200% in Chapter 1, 400% in Chapter 2, and 600% in Chapter 3.
Stats
Those Guys
Health
Attack Power
Attack Range
Attack Frequency
Movement Speed
Knockback
Attack Animation
200 HP
20 damage
(20 DPS)
110
(Single Target)
30f 1 second
10
1 time
10f 0.33s
(20f 0.67s backswing)
Special Ability
Type
-
Traitless
Existence Elsewhere
Kumanchu Royale
Those Guys were one of the many returning enemies in Kumanchu Royale.
Nyanko Daibōsō
Those Guys appeared as a regular enemy in Nyanko Daibōsō.
Nyanko Defence Force
In Nyanko Defence Force, Those Guys made a cameo appearance as a small statue on a floating island in one the backgrounds, and Mr. Angel could be seen on a stone carving in another.
| | |
| --- | --- |
| | |
| Statue of Those Guys | Mr. Angel Carving |
Kyoutou Project
Those Guys appeared as an enemy in Kyoutou Project during the game's collab with The Battle Cats.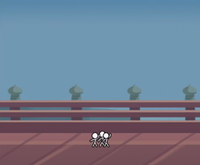 Those Guys as an enemy in Kyoutou Project
Gallery
Trivia
Reference
---
---