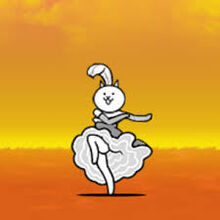 battle catter | wikiman | amazing | inventor of comedy. insurance does not apply to accidental falls to the bottomless pit. I also make edits, and sometimes they're even good!
you can find my youtube channel here
things:
good yes
Dophina: Fun as hell to fight and punishes badly if you mess up. Great enemy design all-around.
Can Can: obvious reasons
Hermit Cat: destroyer of gacha and owner of the objectively best stage in the game. chad
Henry: Provides an interesting challenge and strats. Permafreeze is annoying but oh well.
Mystic Yulala: destroyer of catellites and owner of the objectively third best stage in the game. also chad
Slime Cat: W A V E
R.Ost: Actually somewhat fun to fight with the right setup, especially when cash-tight
Professor A: get destroy ed by LD spam for cool times
Divine Thundia: other reasons
Zir Zeal: CATAUR META
Legend Quest: Epic fun, also forces me to upgrade all my ubers to 30.
Flow like the Stream: actually a hella fun stage
BAD
Bullet Train: Can Can wannabe
Mr.Mole: death
Metal Hippoe: hes always there when you're farming and you have to wait a bajillion years because you didnt bring a critter
Cli-One: roadblocked me for like 2 weeks in ItF 1 because i had like 0 useful ubers and no surfer or miter saw
Winged Pigge: literally satan
Baron Seal: death
Treasures: why
Wrath of Carnage: boost to win ;(
N-1 Grand Prix: boost to win ;(
Gabriel: why does he have so much health
Winged Pigge: again because she's trash
Ramen Cat: please stop using him in generalist lineups aaaa
Cadaver Bear: Zkill with musashi or die
Current UL: Battle in the Bath
Current 2 Star: Finished! :D
Current 3 Star: Kombu Cape
Current 4 Star: Prince of Darkness
Done CotC!
ft. shamelessly ripping off anvil due to my inadequate creativity
Normals
Mohawk Cat:★★☆☆☆
Eraser:★★★★★
Dark:☆☆☆☆☆
Macho Legs:★★★☆☆
Lion:★☆☆☆☆
The Flying Cat:★☆☆☆☆
Island Cat:★★★☆☆
King Dragon Cat:★★☆☆☆
Jamiera Cat:★☆☆☆☆
Specials:
Flying Ninja Cat:★★☆☆☆
Sumo Cat:★☆☆☆☆
Pastry Cat:☆☆☆☆☆
Skelecat:★★★☆☆
Heavy Assault C.A.T:☆☆☆☆☆
Gato Amigo:★★☆☆☆
Ultimate Bondage Cat:☆☆☆☆☆
Dark Lazer:★☆☆☆☆
Dancer Cat:★★☆☆☆
Beefcake Cat:★★★☆☆
Loincloth Cat:★★☆☆☆
Lollycat:★☆☆☆☆
Hyper Mr:★★★☆☆
Unicycle Cat:★☆☆☆☆
Bombercat:★★★☆☆
Miss MONEKO:★☆☆☆☆
Brah Cats:☆☆☆☆☆
Corrupted Moneko:★★★☆☆
Li'l Mohawk:★★☆☆☆
Li'l Eraser:★★★★☆
Li'l Dark:☆☆☆☆☆
Li'l Macho Legs:★★★☆☆
Li'l Lion: ★★★☆☆
Li'l Flying:★★★★☆
Li'l King Dragon:★★★☆☆
Li'l Jamiera:★☆☆☆☆
Chun-Li Cat CC:★☆☆☆☆
Catorpedo:☆☆☆☆☆
Holy Valkyrie:★★☆☆☆
Awakened Bahamut:★★★★★
Cat God the Awesome:★★★☆☆
Filibuster Cat X: ☆☆☆☆☆
Awakened Ururun:★★★★☆
Dark Emporer Catdam:★★☆☆☆
Awakened Mina:★★★★☆
Awakened Musashi:★★★☆☆
Ultimate Mecha-Bun:★★☆☆☆
Doguemon: ★★★☆☆
Grandmaster Cat:★★★☆☆
Mystic Yulala: ★☆☆☆☆
Rares:
Maximum The Fighter:★★☆☆☆
Elemental Duelist:★★★☆☆
Enchantress:★★☆☆☆
Dread Pirate Catley:★★☆☆☆
Flamenco Cat:☆☆☆☆☆
Cataur:★★★☆☆
Cameraman:★★★★★
Sanzo:★★★★☆
Doctor:★☆☆☆☆
Necro-Dancer:★☆☆☆☆
Rodeo:★★☆☆☆
Robocat:☆☆☆☆☆
Catasaurus:★★★★☆
Ramen:★★★★☆
Acrobats:☆☆☆☆☆
Corrupted Psychocat:★★★☆☆
Chill Cat:★★★☆☆
Catellite:★★★☆☆
Weedwacker:★☆☆☆☆
Ectoweight:★★★☆☆
Sifu Cat:★★★☆☆
Jiangshi:★★☆☆☆
Cyborg:★★★☆☆
Goemon:★☆☆☆☆
Thaumaturge:★★★★☆
Space Marine:★☆☆☆☆
Quizmaster:☆☆☆☆☆
Noodle:★★☆☆☆
Puppetmaster & Charley:★★☆☆☆
Hoopmaster:★★☆☆☆
Mochi:★★☆☆☆
Curry:★★★☆☆
Modern:★★★★☆
Zamboney:★★★★☆
Slime:★★★★★
Macho Crystal:★★★☆☆
Tourist:★★★☆☆
Supercat:★★★☆☆
Vodka:☆☆☆☆☆
Assassin BearCat:★★★★☆
Prisoner:★☆☆☆☆
Gentleman Bros:★☆☆☆☆
Kiss and Koi:★☆☆☆☆
Wrestling:☆☆☆☆☆
Ritual:☆☆☆☆☆
Nyaddalin:☆☆☆☆☆
Xmas Pudding Cat:★☆☆☆☆
Creepmallow:★☆☆☆☆
Cat's Gift:☆☆☆☆☆
Delivery:☆☆☆☆☆
Easter:☆☆☆☆☆
True Killer:★★★★★
Super Rares:
Can Can:★★★★★★★★★
Roe:★★★☆☆
Cyberpunk:★★★★☆
Octopus:★★★★☆
Icat:★★★☆☆
Fishman:★★★★☆
Luxury Bath:★★★☆☆
Ultra Delinquent:★★★☆☆
Tathagata:☆☆☆☆☆
Juliet the Maiko:★★★☆☆
Pizza:★★★★★
Slapsticks:★★★★☆
Catophone:★★☆☆☆
Seafarer:★★★★☆
Housewife:★★★☆☆
Kitty of Liberty:★★☆☆☆
Medalist:★★★☆☆
Gold:★☆☆☆☆
Power Cutter:★★★☆☆
Driller:★☆☆☆☆
Power Saw:★★★★☆
Witchy Neneko:☆☆☆☆☆
Seaside Neneko:★☆☆☆☆
Catyphoon:★★☆☆☆
Soba:★★★★☆
Time Traveller:★★★★☆
Bullet Train:★★★★☆
Golfer:★★★★☆
Hacker Geek Cat:★★★☆☆
Manic Mohawk:★★★★☆
Manic Eraser:★★★★★
Manic Dark:☆☆☆☆☆
Manic Macho Legs:★★★★☆
Manic Lion:★★☆☆☆
Manic Flying:★★★☆☆
Manic Island:★★★★☆
Manic King Dragon:★★★★☆
Manic Jamiera:★★☆☆☆
Uber Rares:
Cat Machine Mk.III: ★★☆☆☆ (dunno he just looks kinda cool)
Cat Quest Heroes: ★★★☆☆ (M.Ost, relic bun, UL generalist)
Immortal Shingen: ★★☆☆☆ (ursamajor, i guess)
God Emperor Vars: ★★★★☆ (main anti-relic)
God Emperor Dioramos: ★★☆☆☆ (winged pigge, sleipnir)
God-Emperor Gladios: ★★★☆☆ (traitless counter baybeeeee)
The Peach Devils: ★★★★☆ (learned to love, winged pigge)
The Chaos Moon: ★★★☆☆ (deletes metal)
Kinrangers RoboForce: ★★★★★ (main LD uber)
The Black Cat: ★☆☆☆☆ (skelling)
Akuma Hayabusa: ★★★★☆ (epic critter)
Exalted Ganesha: ★★★★☆ (yknow when you need LD but not much range? epib unit)
Megaphrodite: ★★★★☆ (far reaching ld time oh yeah)
Hades the Deathdealer: ★★★☆☆ (generalist tanker)
Divine Twinstars: ★★★★☆ (epib)
Sakura Miku CC: ★★★☆☆ (CotC)
Lufalan Pasalan: ★★★★☆ (epic)
Piccolan Pasalan: ★★★★☆ (hot)
Mystican Pasalan: ★★★☆☆ (sunfish, kurosawah)
Mitama the Oracle: lol
Gothic Mitama: ★★★★★ (yes)
Meowsketeer: ★★★★☆ (main rusher)
-If you use slime cat or mightycat second form you're sinful and will probably end up in prison sometime later down the line.
-Paper Mario Origami King 😎😎.
-Terraria 1.4 baybee, now no-lifing it a lot more. (crimson gang btw)
-TAWOG is my favourite CN cartoon of all time. (mostly cause i haven't watched many others xd)
-Multihit is very rarely a bad thing and people overrate it's negative impact wayyy too much. Gilgamesh, Myrcia and Dhalsim are the only ones I can think of who'd be better off without it.
Community content is available under
CC-BY-SA
unless otherwise noted.