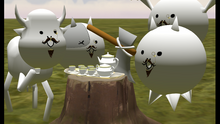 Hello! I'm Deeakron, two gamers who really like Battle Cats and a whole lot of other games!
I have uploaded a total of 348 images to this wiki! This number is most certainly subject to change.
Deeakron L is in charge of the Massive Cat Unit Gallery Project, link to the thread is here and actual progress is here(Google Spreadsheet). Approximate percent complete is 66.30355846%.
Deeakron L has some Let's Plays of Battle Cats on youtube:
https://www.youtube.com/watch?v=RAu8OvCbQUw&list=PLqyPWY3QfXLKLkjWRjWxB2W8_9zqiV1FR
Deeakron L also has made some 3D models of some of the cat units and enemy units for use in Source Filmmaker:
http://steamcommunity.com/sharedfiles/filedetails/?id=370169279
Current Ubers:
Deeakron L:
Sanada Yukimura/Wargod Yukimura/Immortal Yukimura
Thundia/Thundia, type β/Divine Thundia
Spooky Thundia/Spooky Thundia β
Megidora/Holy Dragon Megidora/God-Emperor Megidora
Sodom/Earth King Sodom
Kamakura/God Dragon Kamakura/God-Emperor Kamukura
Princess Kaguya/The Death Moon/The Chaos Moon
Catman/Dark Catman
Anubis the Protector/Anubis the Unblemished
Nekoluga/Unknown Cat/Ultralan Pasalan
Asiluga/Asilan Pasalan
Deeakron M:
Lilith Cat/Succubus Cat
Windy/Windy, type α/Divine Windy
Hallowindy
Spooky Thundia/Spooky Thundia β
Tropical Kalisa/Tropical Kalisa X
The Grateful Crane/Super Galaxy Cosmo
Akira/Shadow Akira/Inferno Akira
The White Rabbit/The Black Cat
Midsummer Rabbit/Midsummer Cat
Radiant Aphrodite/Megaphrodite
Mola King/Living Legend
HUGE HERMIT/HUGE HERMIT CC
DONALD MORDEN/GENERAL MORDEN
Deeakron L's Cats
Normal Cats:
Mohawk Cat 20 +50 | Eraser Cat 20 +49 | Dark Cat 20 +44 | Macho Leg Cat 20 +50 | Lion Cat 20 +50 | The Flying Cat 20 +50 | Island Cat 20 +45 | King Dragon Cat 20 +50 | Jamiera Cat 20 +49
Special Cats:
Flying Ninja Cat 30 | Riceball Cat 26 | Pastry Cat 26 | Skelecat 24 | Heavy Assault C.A.T. 25 | Gato Amigo 27 | Ultimate Bondage Cat 24 | Dark Lazer 24 | Dancer Cat 23 | Beefcake Cat 24 | Unicycle Cat 25 | Loincloth Cat 24 | Lollycat 24 | Hyper Mr. 23 | Miss MONEKO 23 | Brah Cats 14 | Cooldown Cat 10 | Catorpedo 16 | Mint 25 | Cat Royale 24 | Tanky 'n' Cat 18 | Gross White Cat 15 | Castley 15 | Li'l Macho Cat 30 +2 | Li'l Wall Cat 30 | Li'l Brave Cat 30 +3 | Li'l Sexy Legs Cat 30 | Li'l UFO Cat 30 | Holy Valkyrie Cat 30 | Awakened Bahamut Cat 30 | Ururun Cat 30 | Dark Emperor Catdam 30
Rare Cats:
Jiangshi Cat 26 +5 | Chill Cat 27 +4 | Paris Cat 27 +10 | Catasaurus 29 +4 | Maximum the Fighter 24 +7 | Dread Pirate Catley 27 +5 | Goemon Cat 27 +5 | Sanzo Cat 25 +6 | Doctor Cat 28 +4 | Necromancer Cat 7 +8 | Enchantress Cat 27 +4 | Cataur 29 +2 | Elemental Duelist Cat 26 +4 | Cat Eastwood 7 +5 | Totem Cat 11 +4 | Plane Cat 19 +5 | Artist Cat 25 +5 | Cameraman Cat 26 +4 | Neo Psychocat 22 +4 | Magica Cat 10 +1 | Rampage Cats 20 | Grudge Cat 22 | Sashimi Cat 21 | Prisoner Cat 26 | Gentleman Bros. 26 | Nyalladin 26 | Olympienne Cat 23 | Kiss and Koi 23 | Madam the Savannah 21 | Call Center Cat 22 | Kite Cat 22 | Iron Claw X 23 | Creepmallow 12 | Cat Kart G 13 | Cat O'Lantern 11 | Cat's Gift 12 | So-Ran Cat 11 | Delivery Cat 10 | Michelangelo Cat 19 | Major Space Cat 18 | Pair Rope Jump Cat 10 | Puppetmaster Cat 12 | Showoff Cat 12 | Banner Cat 12 | HYAKUTARO CC 17 | TARMA CC 28 +2 | ERI CC 17 +1 | FIO CC 17 +1 | MARS PEOPLE CC 17 +1 | Funghi 'n' Cat 14
Super Rare Cats:
Can Can Cat 30 +1 | Fried Shrimp Cat 30 +1 | Gold Macho Cat 30 | Metal Macho 20 | Cat Base Jr. 30 | Prof. Cat Jobs 30 | Rich Cat Sr. 30 | Hacker Cat 30 +1 | Sadako Cat 30 +1 | Face Cat 30 | Butterfly Cat 16 +2 | Luxury Bath Cat 30 +1 | Angry Delinquent Cat 10 +1 | Tathagata Cat 30 | Ring Girl Cat 30 +1 | Drama Cats 29 +2 | Catophone 30 | Castaway Cat 16 | Manic Mohawk Cat 20 | Crazed Wall Cat 20 | Crazed Braved Cat 20 | Crazed Sexy Legs Cat 20 | Crazed Giraffe Cat 20 | Crazed UFO Cat 20 | Crazed Whale Cat 30 | Crazed Dragon Cat 30 | Crazed M. Titan Cat 30 | Hurricat 30 | SV-001 CC 8 +2 | ALLEN O'NEIL CC 10
Uber Rare Cats:
Immortal Yukimura 30 | Divine Thundia 33 | Spooky Thundia β 30 +1 | God-Emperor Megidora 30 | Earth King Sodom 30 | God-Emperor Kamakura 30 | The Chaos Moon 30 | Dark Catman 33 | Anubis the Unblemished 30 +1 | Ultralan Pasalan 30 | Asilan Pasalan 30
SoL: Body & Soul: Gestalt, Decay
Deeakron M's Cats
Normal Cats:
Mohawk Cat 20 +46 | Eraser Cat 20 +41 | Dark Cat 20 +44 | Macho Leg Cat 20 +47 | Lion Cat 20 +47 | The Flying Cat 20 +48 | Island Cat 20 +47 | King Dragon Cat 20 +46 | Jamiera Cat 20 +42
Special Cats:
Flying Ninja Cat 28 | Riceball Cat 27 | Pastry Cat 27 | Skelecat 26 | Heavy Assault C.A.T. 27 | Gato Amigo 30 | Ultimate Bondage Cat 27 | Dark Lazer 26 | Dancer Cat 25 | Beefcake Cat 26 | Unicycle Cat 27 | Loincloth Cat 26 | Lollycat 26 | Hyper Mr. 25 | Miss MONEKO 26 | Brah Cats 16 | Cooldown Cat 15 | Catorpedo 29 | Mint 28 | Cat Royale 30 | Tanky 'n' Cat 13 | Gross White Cat 14 | Castley 14 | Li'l Macho Cat 37 | Li'l Wall Cat 30 | Li'l Sexy Legs Cat 30 +3 | Li'l UFO Cat 30 +1 | Holy Valkyrie Cat 30 | Awakened Bahamut Cat 30 | Ururun Cat 30 | Dark Emperor Catdam 30 | Crimson Mina 16
Rare Cats:
Jiangshi Cat 30 | Chill Cat 29 +1 | Paris Cat 34 | Catasaurus 29 +1 | Maximum the Fighter 29 +1 | Dread Pirate Catley 30 | Goemon Cat 29 +1 | Monk Cat 13 | Fisherman Cat 30 | Necromancer Cat 13 +2 | Sorceress Cat 29 +1 | Cupid Cat 29 +1 | Sword Master Cat 28 +2 | Cat Eastwood 16 | Totem Cat 13 | Plane Cat 15 | Artist Cat 22 +1 | Commando Cat 13 +1 | Neo Psychocat 30 | Magica Cat 13 | Rampage Cats 20 | Ritual Cat 22 | Sashimi Cat 13 | Prisoner Cat 27 | Gentleman Bros. 28 | Nyalladin 27 | Olympienne Cat 30 | Kiss and Koi 24 | Madam the Savannah 23 | Call Center Cat 24 | Kite Cat 24 | Iron Claw X 20 | Creepmallow 16 | Cat Kart G 16 | Cat O'Lantern 14 | Cat's Gift 13 | So-Ran Cat 13 | Delivery Cat 14 | Michelangelo Cat 15 | Major Space Cat 28 | Pair Rope Jump Cat 13 | Puppetmaster Cat 13 | Showoff Cat 14 | Banner Cat 14 | HYAKUTARO CC 17 | MARCO CC 13 +1 | TARMA CC 13 | ERI CC 13 | FIO CC 13 +1 | MARS PEOPLE CC 14 | Funghi 'n' Cat 10
Super Rare Cats:
Dancing Flasher Cat 26 | Fried Shrimp Cat 18 | Gold Macho Cat 31 | Metal Macho 10 | Sniper the Heavy 10 | Hacker Cat 15 | Sadako Cat 24 +1 | Face Cat 20 | Butterfly Cat 15 | Luxury Bath Cat 30 | Angry Delinquent Cat 20 +1 | Tathagata Cat 29 +1 | Princess Juliet Cat 10 | Ring Girl Cat 19 | Drama Cats 17 | Catophone 30 | Castaway Cat 10 +1 | Manic Mohawk Cat 20 | Crazed Wall Cat 20 | Crazed Braved Cat 12 | Crazed Sexy Legs Cat 20 | Crazed Giraffe Cat 10 | Crazed UFO Cat 20 | Crazed Whale Cat 14 | Crazed Dragon Cat 20 | Crazed M. Titan Cat 12 | Hurricat 18 | SV-001 CC 10
Uber Rare Cats:
Succubus Cat 31 | Divine Windy 33 | Hallowindy α 19 | Spooky Thundia β 15 | Tropical Kalisa X 31 | Super Galaxy Cosmo 31 | Inferno Akira 32 | The Black Cat 31 | Midsummer Cat 35 | Megaphrodite 31 | Living Legend 31 | HUGE HERMIT CC 22 | GENERAL MORDEN 17
SoL: Intrepid Cats: Birdwatching