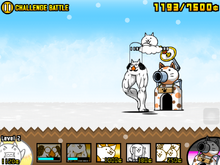 Who Am I
A male adolescent. (extremely dangerous)
A Year 8 student.
A Chinese who lives in Australia.
A nerd (apparently).
 ?
My Current Battle Cats Level
Empire of Cats chapter 1: 48/48
Empire of Cats chapter 2: 48/48
Empire of Cats chapter 3: 48/48
Into the future chapter 1: 48/48
Into the future chapter 2: 48/48
Into the future chapter 3: 33/48 (completed)
SoL (1 star): At Least I'm a Cat
My cats: https://docs.google.com/spreadsheets/d/14PD5TT8yZ0TRVzfDUo37LF6dXfaID-0QlYRrRc015Gc/
My Goal for Wikia
Make a good start: 1 edit
Easy Peasy: 10 edits
So Lucky: 13 edits
Getting Harder: 50 edits
Got to Hundred: 100 edits
Half-a-Grand: 500 edits
Sounds Hard: 1000 edits
Christmas At Home: 1225 edits
Takes ages: 2016 edits
Possible?: 7777 edits
Destination: 9999 edits
Achievements
Finished Challenge battle with a score of 871,371,361 (currently ranked 62 out of 65,558 players).
Eraser Cat seems rather useless for me. I managed to Utopia is Over There without him. I also cleared 8 crazed stages and 5 cyclone stages without him.
I got Majestic Zeus by spending a Rare Cat Ticket.
I finished many tough levels like Absolute Defence using Super Galaxy Cosmos + Hit-Box Glitch.
I have now finished all Crazed cat levels.
I have now finished all Cyclone stage except for Black Hole Rising.
Only beat Vulcanizer, Lots O'lions and Forest Beasts so far.
Gamatoto Quotes (Enjoy!)
Gamatoto grew wings and flew away while falling from 30,000 ft. (To fly or to fall...)
Gamatoto folded 1,000 origami cranes at the top of Mt Fuji.
Gamatoto built his dream home with a Hippoe.
Gamatoto discovered a lost city at a crowded street bazaar. (Everyone is blind.)
Gamatoto had his identity stolen on the edge of a cliff. (Most certainly Thief Cat is to be blamed.)
Gamatoto made a police report at the hair salon.
Gamatoto fell in love in the gym sauna. (...)
Gamatoto bought a puppy during a job interview. (get fired!)
Gamatoto stole a pen with a childhood friend. (Why don't I get the pen?!!!)
Gamatoto nearly drowned after meeting Moneko. (Is she that beautiful?)
Community content is available under
CC-BY-SA
unless otherwise noted.