This is not a official enemy
Impassibilis Yukimura is a enemy that appears in Evolution of Yukimura (Deadly)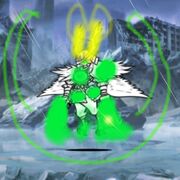 Enemy
Impassibilis Yukimura stays pretty safe against units. He can one shot a hypermaxed manic Eraser with one shot. Fortunately, he has 200 Knockbacks and 20s between attacks, so short ranged tanky units like Ramen cat enter his blind spot and destroy him (warning: his blind spot is very small)
Remember that this is a angel enemy, so forget about units like Shaman Cat as they will do no good. Instead, use Rodeo Cat (with talent) or other units like Ultra Delinquent Cat. Anti angel units like Acrobat Cats will also work. Just remeber, he has a small blind spot!
Description
Yukimura has somehow been killed by a bun bun black, so his soul came back down to earth. Has a blind spot, but can Curse cats!
Impassibilis Yukimura
Health
Attack Power
Attack Range
Time between attacks
Movement Speed
Knockback
Attack Animation
2,000,000 HP
80,000 damage
400 (Area Attack)
20s
35
200 times
2.9 seconds
Special Ability
Attribute
Long Distance (Effective range: 200~400) 100% chance to curse cats for 20f
Relic,Angel
Community content is available under
CC-BY-SA
unless otherwise noted.