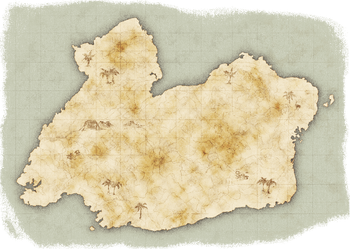 Windless Island (風待ちアイランド Kazemachi Airando, Windwait Island) is the 40th sub-chapter of Stories of Legend, added in update version 6.2 of Nyanko Daisensou on June 22nd, 2017, and The Battle Cats in July 4th, 2017. It is available up to 4★ difficulty.
Difficulty
While not as hard as Cutpurse Coast or Above & Below, this sub-chapter is not to be taken lightly. The hardest stages are likely Gulag of Love (3 Dober P.D. and many burrowing Zang Roos) and Houses of the Holy (Pigeon de Sables and Doge Cannon ruins your attackers).
2★ difficulty for this sub-chapter multiplies enemy strength magnifications by 120%.
3★ difficulty for this sub-chapter multiplies enemy strength magnifications by 130%.
4★ difficulty for this sub-chapter makes no change to enemy strength magnifications and only allows Special Cats and Rare Cats to be deployed.
List of Stages
Stage number & cost
Stage name
Description
1-40-1
Narrow Docks (むっちり隠れ港, Mutchiri Kakure Minato, Plump Hidden Harbor)
Cli-One spawns at the start of the battle and serves as the boss, backed up by Sir Seal, his alien counterpart and his undead self.
140
1-40-2
Romantic Highway (ロマンスグレーハイウェイ, Romansu Gurē Haiu~ei, Romance Gray Highway)
Groups of Assassin Bears are spawned when the enemy base's HP is reduced to 90% and 70%. Other enemies in this stage include Dolphinas and Brollows.
150
1-40-3
Drunken Backrub (泥酔マッサージャー, Deisui Massājā, Drunk Massager)
Just Capies, Cala Marias and B.B.Bunnies.
140
1-40-4
Gulag of Love (豚箱恋愛沼, Butabako Ren'ai-numa, Police Cell Love Swamp)
A stage similar to Pigpen Taboo, many classic peons appear with Kang Roo at the beginning, and Dober P.D and some Zang Roos come out when the enemy base is attacked. Like in Pigpen Taboo, two more Dober P.Ds will spawn eventually.
150
1-40-5
Perfume Room (フェロモン門, Feromon-mon, Pheromone Gate)
Highly buffed (4000%) Trolly Bloggers are sent out in masses here.
155
1-40-6
Houses of the Holy (天空秘宝の館, Tenkū Hihō no Yakata, Sky Treasure House)
The Doge Base is in here, with the occasional Mr. Angel. The boss group consists of many Pigeon de Sables, Brollows, Mr. Angels and Li'l Bun Buns.
165
Material Drop Rates
| None | Bricks | Feathers | Coal | Sprockets | Gold | Meteorite | Beast Bones | Ammonite |
| --- | --- | --- | --- | --- | --- | --- | --- | --- |
| 46% | 10% | 20% | 3% | 0% | 7% | 7% | 7% | 0% |
Trivia
This sub-chapter is a reference to the second album by Happy End, Kazemachi Roman (風街ろまん), which literally translates to "Wind City Romance".

However, the Japanese name, spells Kazemachi (風街ろ) with 待, meaning "wait", instead of 街, meaning "boulevard".
Reference
---
<< Above & Below | IT Catacombs >>
---
Community content is available under
CC-BY-SA
unless otherwise noted.