Wrath of Carnage (Deadly) is the first stage in River Acheron. Completing this stage for the first time will yield a reward of 1,000,000 XP. This is a No Continues stage.
Restrictions
Rarity: Only Normal, Special, Uber, and Legend Rare
Battleground
1 Hannya spawns as the boss after 10 seconds300f.
3 Ginger Snaches spawn after 26.67 seconds800f, delay 4~6 seconds120f~180f.
4 Ginger Snaches spawn after 40 seconds1,200f, delay 2~3 seconds60f~90f.
2 Ginger Snaches spawn after 80 seconds2,400f, delay 5.33~8 seconds160f~240f.
3 Ginger Snaches spawn after 100 seconds3,000f, delay 2.67~4 seconds80f~120f.
1 Ginger Snache spawns after 133.33 seconds4,000f.
2 Ginger Snaches spawn after 160 seconds4,800f, delay 3.33~5 seconds100f~150f.
1 Bore spawns after 33.33 seconds1,000f.
1 R.Ost spawns after 83.33 seconds2,500f.
1 Bore spawns after 133.33 seconds4,000f.
1 R.Ost spawns after 200 seconds6,000f.
3 Sir Seals spawn after 233.33 seconds7,000f, delay 33.33~50 seconds1,000f~1,500f.
Infinite Bores spawn after 283.33 seconds8,500f, delay 166.67 seconds5,000f.
Infinite R.Osts spawn after 366.67 seconds11,000f, delay 166.67 seconds5,000f.
Strategy
This stage itself is an exact copy of Realm of Carnage. That being said, the only difference is the added restriction, that only allows Normal Cats, Special Cats, Uber Rare, and Legend Rare Cats to be deployed. This actually makes a big difference since very useful units on the Super Rare and Rare rarity such as Roe Cat, iCat, or Elemental Duelist Cat can no longer be used, so having a high leveled up Island Cat or his Li'l counterpart is pretty much mandatory if the player wants to beat the stage, unless it has some Anti-Red Uber Rare Cats of course. Momotaro, for example, can be stacked up at the start of the level to freeze Bore, and if you are lucky and time the Thunderbolt Cannon, can permafreeze Hannya.
Strategy 1 (Uberless)
Lineup:
All basic cats present should be as high level as possible, including Lion and King Dragon.
Battle:
You want to start off with some Worker Level ups and Erasers until Bore appears.
As soon as Bore spawns, start spamming Island Cats and erasers, while adding a king Dragon near the Bore's death; the reason being that it'll take a while and the dragons may be extra help for R.Ost. As soon as R.Ost appears, add Macho Leg, King Dragon, and Li'l eraser to the spam; while you can stop with the Islands until that bird takes his third knockback. When he's almost dead, spam Lions, Jamieras, and Islands and let them attack Hannya as soon as the other units are done with R.Ost.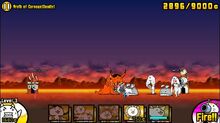 This is the Hannya phase, in which you are supposed to deal as much damage as possible to the boss with the help of either the Thunderbolt cannon to stop an attack and let some units deal damage without the weaken or the Breakerblast to push it back more.
If you can manage to not let Hannya advance and push it back whenever it does, you could theoretically keep this up forever and eventually win, but you should still manage to defeat it in just 5 cycles.
In short:
Bore phase: Spam regular Eraser and Island, with minor help from King Dragon.
R.Ost phase: Dual Erasers, Legs, King Dragon.
Hannya phase: Island, Jamiera, Lion.
Things you can do if you lose:
Level up your basic cats, make sure you have all treasures, etc.
Use Rich Cat and Sniper for the Hannya phase and R.Ost phase.
Replace Legs and Li'l Eraser with an uber who can deal with R.Ost and A. Bahamut or someone else who can cause trouble to Hannya when fighting it directly, do not replace only one though.
use thunderbolt cannon to freeze R.Ost and A. Bahamut in place of both Legs and Liìl Eraser for the R.Ost phase, you can then hope for 2 Bahamut hits and get an advantage as well as an open slot for whatever you want, but this is also riskier/timing-based, and you don't get to use the cannon for Hannya.
Find a different strat (here or elsewhere) designed around ubers that you have.
Walkthrough
| Walkthrough Video | Player | Notes |
| --- | --- | --- |
| The Battle Cats - Wrath of Carnage (Deadly) | Nurse Wuffa | High levels of normal cats required |
Trivia
Reference