Wrath of the Dreamer is the first stage in A Deeper Dream. Completing this stage for the first time will yield a reward of 1,000,000 XP. This is a No Continues stage.
Restrictions
Rarity: Only Normal, Rare, Uber Rare, and Legend Rare
Battleground
It is an exact copy of Bombergirl, though with a restriction in place. Due to the restriction, the player cannot use certain wave attackers and Long Distance units that would be helpful here (eg. Manic Macho Legs, Crimson Mina, Major Leaguer Cat, etc.) to win the battle.
Strategies
Strategy 1 (Uberless)
Lineup:
Battle: Start spamming Maximum the Fighter as soon as you can, he will stall the Bore and let you build up money. He won't completely stop him, however, so add Elemental Duelist Cats to the mix.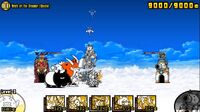 The next step is to try and predict when Bore is about to die; at that point, stop summoning units and save up instead, so only a small bunch of cats rushes to the base and triggers the boss. This is important as it will allow you to fight Bore and Kang Roo before Bakoo gets in the way. Despite this, it's still crucial that you start spamming Maximum again very soon, with some Cyborg Cats. Try to also time Iron Claw X to hit Kang Roo with his third hit (using Kang Roo's higher speed and the gap you left). Do not forget about King Dragon Cat, he's here to hit Bakoo when she arrives, so it is recommended to start summoning them now.
After Bakoo arrives, all you have to do is use the Breakerblast Cannon the first time she's about to attack and hope the damage she took in the process is enough for her to take a knockback and miss the second time. In addition, start spamming Robocats.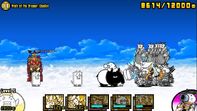 Even if she attacks, you should still be able to recover unless your Maximum is too strong; eventually no Bore will remain and you can start destroying Bakoo while making sure to never spawn a short ranged cat ever again. If you took too much damage on the base, it's best if you stop the Maximum and Duelist spam shortly after the last Bore's second knockback, as Bakoo could attack because of them and destroy your base. Besides that, you should be fine.
Notes: In the featured attempt: Iron Claw X was level 33, you can improve that; Elemental Duelist was level 38+16 without Talents, you can greatly improve that; no Uber Rares or items were used, if you have trouble a Rich Cat and a Sniper can make your life easier; as for Uber Rares, Long Distance or waves are recommended, while replacements to some of the recommended units are not encouraged, besides Robocat or Combo cats.
Strategy 2 (Siluman Tomcat)
Lineup: Eraser, Enchantress, Catley, Camera, Robo, Thaumaturge
https://www.youtube.com/watch?v=WpV87U-2BY0
Strategy 3 (Lucas IV)
Lineup: Bony Bone (Combo), Biohazard (Combo), Duelist, Lone Cat and Kitten (Rare Cat), Mohawk, Eraser, Thaumaturge, Cyborg, Catley
https://www.youtube.com/watch?v=2UMDpU_30WU
Reference
Community content is available under
CC-BY-SA
unless otherwise noted.