Fire Emblem Warriors: Three Hopes - The Loop
Play Sound
Wrath of the Dreamer is the first stage in A Deeper Dream. Completing this stage for the first time will yield a reward of 1,000,000 XP. This is a No Continues stage.
Restrictions
Rarity: Only Normal, Rare, Uber Rare, and Legend Rare
Battleground
1 Bore spawns after 3.33 seconds100f.
When the base reaches 99% HP:
Strategy
Strategy 1
Lineup: A few Combos of your choice, King Dragon Cat, Robocat, Maximum the Fighter, Elemental Duelist, Cyborg and Iron Claw X
Battle: Start by spamming Maximum the Fighter as soon as you can, he will stall the Bore and let you build up money. He won't completely stop him, however, so add Elemental Duelist Cats to the mix.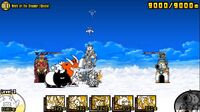 The next step is to try and predict when Bore is about to die; at that point, stop summoning units and save up instead, so only a small bunch of cats rushes to the base and triggers the boss. This is important as it will allow you to fight Bore and Kang Roo before Bakoo gets in the way. Despite this, it's still crucial that you start spamming Maximum again very soon, with some Cyborg Cats. Try to also time Iron Claw X to hit Kang Roo with his third hit (using Kang Roo's higher speed and the gap you left). Do not forget about King Dragon Cat, he's here to hit Bakoo when she arrives, so it is recommended to start summoning them now.
After Bakoo arrives, all you have to do is use the Breakerblast Cannon the first time she's about to attack and hope the damage she took in the process is enough for her to take a knockback and miss the second time. In addition, start spamming Robocats.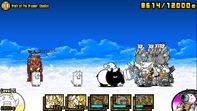 Even if she attacks, you should still be able to recover unless your Maximum is too strong; eventually no Bore will remain and you can start destroying Bakoo while making sure to never spawn a short ranged cat ever again. If you took too much damage on the base, it's best if you stop the Maximum and Duelist spam shortly after the last Bore's second knockback, as Bakoo could attack because of them and destroy your base. Besides that, you should be fine.
Notes: In the featured attempt: Iron Claw X was level 33, you can improve that; Elemental Duelist was level 38+16 without Talents, you can greatly improve that; no Uber Rares or items were used, if you have trouble a Rich Cat and a Sniper can make your life easier; as for Uber Rares, Long Distance or waves are recommended, while replacements to some of the recommended units are not encouraged, besides Robocat or Combo cats.
Strategy 2
Lineup: Dread Pirate Catley, Eraser Cat and Mohawk Cat along with any other viable meatshield, any Cats with Freeze Immunity, Anti-Black Units. Any Nukers are recommended.
Battle: Spawn Eraser Cat and your meatshields as soon as the Bore spawns. As long as you're decently good at recognizing when the Bore is pushed too close to the base, this strategy is for you. Spawn Cately during the short duration before Bore wrecks your meatshields. As long as you're meatshielding correctly long enough, you should be able get a horde of three or four Catleys total, who will semi-permanently knockback the Bore. Whenever your stack goes too close to the base, stop meatshielding and let the Bore cut down your stack a little. As long as you're able to repeat this process, you can stall and eventually get your Worker Cat to level 8. Alternatively, you could use a Rich Cat and spare yourself the pain, instead only having to wait for your wallet to fill up; effectively removing the time it takes to upgrade the Worker Cat. Stalling with Cately is still recommended.
When Bakoo spawns, spawn all your Uber Rare cats, and any spammable Rare Cats you brought with you; basically, the same strategy as Bombergirl. Should your luck and timing be just right, the little downtime between each of Bakoo's freezes will be enough for your Anti-Black cats to knockback Bakoo before she attacks, with your Cately holding off the Bore enough for your nuker-class cats to destroy Bakoo and said Bore. Enjoy your one million XP.
Walkthrough
Video
Player
Notes

The Battle Cats - Wrath of the Dreamer (Bakoo's Wrath)

Lucas IV
Reference