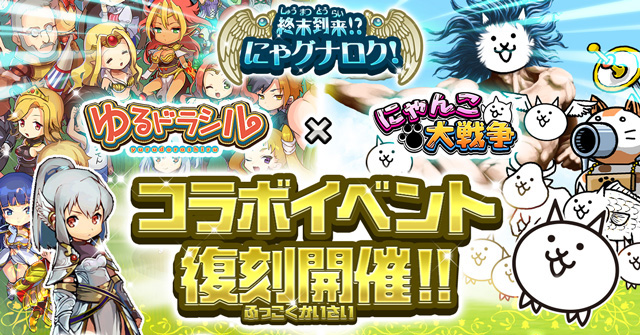 A collaboration event between Nyanko Daisensou and the RPG game known as Yurudrasil (ゆるドラシル Yuru Dorashiru) was held from November 4th, 2015 to November 19th, 2015. The collaboration includes exclusive stages and an exclusive Gacha going on during collab period.
Event
Character from Yurudrasil are available to unlock in the Battle Cats via the collaboration stage the event period.
Besides the Collaboration Gacha, other collaboration cats include:
【Special】 Oden - Obtained via completing the Nyanko Invaders!? stage via the Yurudrasil app.
Collaboration Fixed Stage
Collaboration Stages are available to play in the Legend Stages menu from the title screen. These stages are colored in purple, which include characters from Yurudrasil as enemies. The only stage to become available is Yurudrasil Divine, of which is a Timed Score Reward stage that has various items as Treasures. As the player progresses to the more difficult levels, the higher rarity and amounts of Treasures that can be obtained.
Clear all the levels in a Yurudrasil map to receive 30 Cat Food and 1 Leadership.
List of Stages
Yurudrasil Divine!
Yurudrasil Divine! (神略!ゆるドラシル Kami ryaku! Yuru dorashiru)
| | Japanese Version name | Translation |
| --- | --- | --- |
| Stage 1 | 新たなる神話、始まる (Aratanaru shinwa, hajimaru) | A New Myth Begins |
| Stage 2 | 王都バルディア (Ōto barudia) | Royal City Of Baldia |
| Stage 3 | 神々の遊び (Kamigami no asobi) | Play With The Gods |
| Stage 4 | ヴァルハラ攻防戦 (Vu~aruhara kōbō-sen) | Valhalla Battle |
| Stage 5 | 終末到来!?にゃグナロク! (Shūmatsu tōrai! ? Nya gunaroku!) | The End Is Coming!? Nya Gunaroku! |
Gallery
Appears
Japanese Version
November 4th, 2015 (15:00) to November 19th, 2015 (15:00)
August 28th, 2017 (11:00) to September 11th. 2017 (10:59)
External Links
Yurudrasil Collaboration Event
Community content is available under
CC-BY-SA
unless otherwise noted.