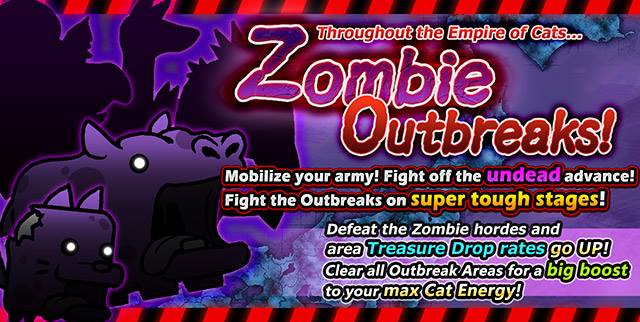 にゃんこの世界にもゾンビが襲来!?
Zombies also attack the world of Battle Cats!? - Event Information
Zombie Outbreaks (ゾンビ襲来, Zonbi Shūrai, Zombie Attack) are a special event that appear in completed Main Chapters, starting with Empire of Cats Chapter 1.
This feature was added in Version 5.6 of the Japanese Version on November 16th, 2016. Version 5.7 added Zombie Outbreaks to Chapter 2, and 5.8 added them to Chapter 3. 7.4 added Zombie Outbreaks to Into the Future Chapter 1, 8.8 added them to Chapter 2, and 9.5 added them to Chapter 3. 11.3 added Outbreaks to Cats of the Cosmos Chapter 1.
There are currently no Zombie Outbreaks for Cats of the Cosmos Chapters 2 and 3.
Explanation
Zombie Enemies are prominently featured in these events. Zombies can burrow (once, though some can burrow twice or even infinitely and others none) past Cat Units' hitboxes and they respawn once (but some infinitely) at 50% or 100% health.
Most of the normal enemies in a Zombie Outbreak stage are replaced by their Zombie counterparts (e.g. Doge → Zoge). This holds true for most of Empire of Cats with some Red and Floating enemies sprinkled in. Outbreaks in Into the Future and Cats of the Cosmos follow the same formula, but can also contain Black, Metal, Angel and Alien enemies if they were present in the original level. There are also some cases where bosses appear as usual.
The only restriction present in Cats of the Cosmos Outbreaks is "Max # of Deployable Cats", which will be either 5, 10 or 15 depending on the stage.
Once you have attempted the Outbreak stage and lost (or quit after 10 seconds have passed) you can tap on the name of the stage at the top of the screen to see the list of enemies that appear in the stage. However, this will be concealed again if the event returns in the future at the same level.
Upon completing one Zombie Outbreak, the player will gain 10 Cat Food, and small "Z" medal appears around the respective stage.
If the player completes all Zombie Outbreaks in a specific treasure set, another "Z" medal appears in the respective treasure screen, and the chances of getting Treasure in those levels will improve significantly.
If the player completes all Zombie Outbreak levels in a chapter, the Energy Capacity will rise by 50.
At first, Zombie Outbreaks appear once every few hours and their location changes if they were not cleared after some time. As they are being completed, future outbreaks will be less frequent in a single chapter, as it is not possible to clear an outbreak event twice. If the player uses the Energy Glitch, they occur more often.
Zombie Enemies
The different Zombies that can be encountered in Zombie Outbreaks are:
Interestingly enough, the Zombies in Empire of Cats' Zombie Outbreaks have a strength magnification of 20%, making it easier for new players to beat them. In Chapter 2, the Zombie are magnified by 30%. In Chapter 3, the Zombies are magnified by 50%.
In Into the Future and Cats of the Cosmos, the strength magnifications are different depending on the Zombie, as shown below:
| Enemy | ItF 1 | ItF 2 | ItF 3 | CotC 1 |
| --- | --- | --- | --- | --- |
| Common Zombies | 150% | 200% | 250% | 250% |
| Lord Gravey, Miss Haka | 100% | 200% | 150% | - |
| Cadaver Bear, Dread Bore | 100% | 120% | 150% | 150% |
| The Thrillerz | - | 100% | 150% | 150% |
| Zuche | - | 100% | 150% | 200% |
| Li'l Zyclone | - | - | 100% | 100% |
| Zapy | - | - | - | 100% |
Most enemies in an "infected" stage will be replaced with their Zombie counterparts (with some exceptions), bosses still appear like normal if the original stage has one but some are replaced by their Zombie version.
Restrictions
In addition, Cats of the Cosmos's Zombie Outbreaks each feature a restriction just like their original stages. However, most of the time they are completely different from the original one. There are only 3 restrictions that appear throughout: Limiting the Cat Deploy Limit to 5, 10, or 15.
Strategies
A decently-leveled Giraffe Cat can prevent all peons from burrowing. Spam them to bypass all Zombies and destroy the base. Harder Outbreaks may require Crazed Giraffe Cat instead.
For an even faster method, use the Crazed Giraffe (or the Cat Cannon) to clear a path for Awakened Bahamut to destroy the enemy base in a couple hits. If correctly timed, he can easily bypass the burrowing zombies.
Zombies will inevitably get behind your front lines as they revive or when new ones spawn, causing them to "snipe" your base from behind your forces. A helpful tactic to prevent this is to keep a Zombie Killer unit at the ready for when new spawns burrow behind so that they can help to defend the base more easily. You really don't want to lose a base-race on a difficult Alien/Zombie stage!
Getting an early Zombie Killer Super/Uber/Legend Rare can help farm that +10 Cat Food for more Ubers, as Zombie Outbreaks do get rather difficult starting from Empire of Cats Chapter 3 for newer players. There is a total of 480 Cat Food available from Zombie Outbreaks in each chapter. When combined with ad farming, this is one of the more efficient ways for beginners to earn Cat Food.

All cat units from the Frontline Assault Iron Legion gacha event have Zombie Killer and can easily decimate them, making these expensive but powerful choices for new players. The Grandon Mining Corps set (which also appears during Iron Legion and a few other events) has Piledriver Cat, a Super Rare unit that knocks back zombies, is resistant to them, and has Zombie Killer as well as Omni Strike.
Notes
The final stage's Zombie Outbreak can only appear after all other Outbreaks in the chapter are completed.
Zombies encountered in Zombie Outbreaks are typically based on enemies that were already present, but this is not always the case. The most common example is Zroco, who appears in many stages that didn't originally have Croco or Kroxo in any chapter, but almost all the Zombies are subjected to this in one stage or another. In fact, the original variants of Zuche and Zapy don't appear in the main chapters at all, making it impossible to guess which stages will have them.
In Into the Future and Cats of the Cosmos, Zombie Outbreaks will often add non-Zombie enemies that have no connection to the original level. For instance, in Chapter 3 Nepal's Zombie Outbreak, Le'noir is added, Mooth is replaced by Maawth, and Imperator Sael is removed altogether. An even more absurd example is in Red Rectange's Zombie Outbreak, where a Capy is added.
Gallery